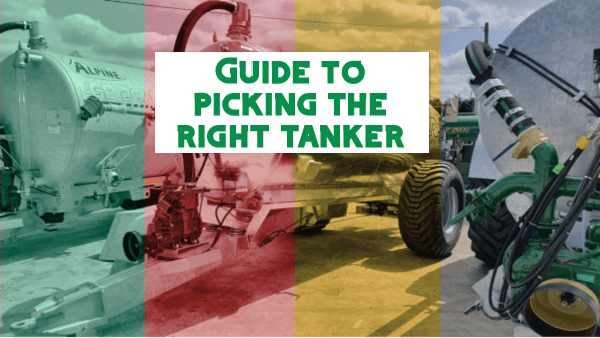 Major Agri - A guide to picking the right tanker
Many factors are taken into consideration when choosing a slurry tanker. With the variety of makes, models and accessories involved, the options can be bewildering to both novice and seasoned buyers.
The Major range of slurry handling equipment covers a variety of conditions for farmers and contractors. Divided into four classes, tankers in each category are designed and built around a specific use or requirement. Buyers can further customise the vacuum tankers with an extensive list of industry-leading components and accessories.
Class: Standard
Ideal for: Small holdings, water browser & dust suppressor
Capacity 1150-2000 gallon
Key Design Specification:
Choice of Agri & LGP models
Detachable parking stand
PTO holder
Fully galvansied
Class: Contractor
Ideal for: Larger farmers with multiple sites & contractors
Capacity: 2050-3100 gallon
Key Design Specification:
Recessed wheels (28W-30" wheels) for increased sability
Heavy duty commercial axles
Internal baffing to prevent wave motions
Side & rear lights
Class: Alpine
Ideal for: Larger farmers with multiple sites & contractors working in hillier & wetter ground
Capacity: 2150,2300,2670 gallon
Key Design Specification:
Lower centre of gravity (by 14")
Larger Wheel recess for greater stability on hills & high road speeds
Internal baffing to prevent wave motions
Side & rear lights
Class: Tandem
Ideal for: Transportation & application of digestate from AD plants, large dairy operations & zero grazing operations
Capacity: 2000-4000 gallon
Key Design Specification:
HI-speed commercial axles rated to 100km/hr
Heavy duty bogey steering axles
Internal baffing to prevent wave motions
Shearbolt PTO on shft
"All our tankers are built with the barrel supported by a separate chassis," begins Martin Walsh of Major Equipment. "We designed it this way so 80% of the weight runs on the tanker's axle with the remainder carried on the tractor drawbar. This improves the integrity of the entire tanker so it can bear the stress of pulling heavy loads and at longer distances. If you're pulling multiple loads a day or doing a lot of road work, you'll want a strong enough tanker that can cope with those conditions."
Tractor, ground and work objective
While some might jump straight away into talking about bogey steering or ask about the virtues of Bauer pumps, the first question Martin asks is what tractor HP is available. "The tractor you have will dictate what size tanker it'll be able to pull," he continues.
From there, understanding the customer's geographical location or the ground conditions helps steer the conversation towards a suitable tanker class or size. "Ireland might be a small country by many standards but the topography is variable and diverse," says Martin. "The land to the North and West is mixed land that leans towards hilly – a 110-hp tractor is enough to pull a 2000-gallon tank. In areas like Tipperary or Kilkenny, the same size tractor could pull a 2250-gallon tanker."
Derogation farms require low emission systems
The third question delves into the class of farming operation. Martin often enquires if the customer is a derogation farmer. "Derogation farms are required to use low emission slurry applicators to be exempt from higher stocking rates," says Martin. "Some 90% of derogation farms in Ireland are dairy farms, and 50% of the slurry, if not all, produced on those farms need to be handled using low emission systems."
Dairy farms in Ireland vary but the larger operator may have some 250 milking cows and land, owned or leased, scattered across the countryside. A larger unit is needed to remove the liquid manure from storage tanks and spread them across the various sites. "Our customers want larger units to reduce the number of trips, but we also want them to consider safety, suitability and value," adds Martin. "For example, it's important to choose the right kind of tyres for the work. Low ground pressure tyres are designed for field work but if you're going to be on roads a lot, tyres that suit both circumstances can cost more, but are critical."
Major Equipment has been building customised tankers for over forty years and have the systems, in-depth knowledge and foresight to present an appropriate solution for any operation. "Our machines are designed to help future-proof farmers from whatever changes there are in the agriculture sector," continues Martin. "We know tankers can be a significant investment, and that's even after obtaining any government supports available. So we make every effort to spec a solution for you that will work for you today and 10 years down the road."
To determine a suitable slurry handling system solution for your operation, contact one of the Major product specialists today when you sunbmit your enquiry and connect with the one in your area.