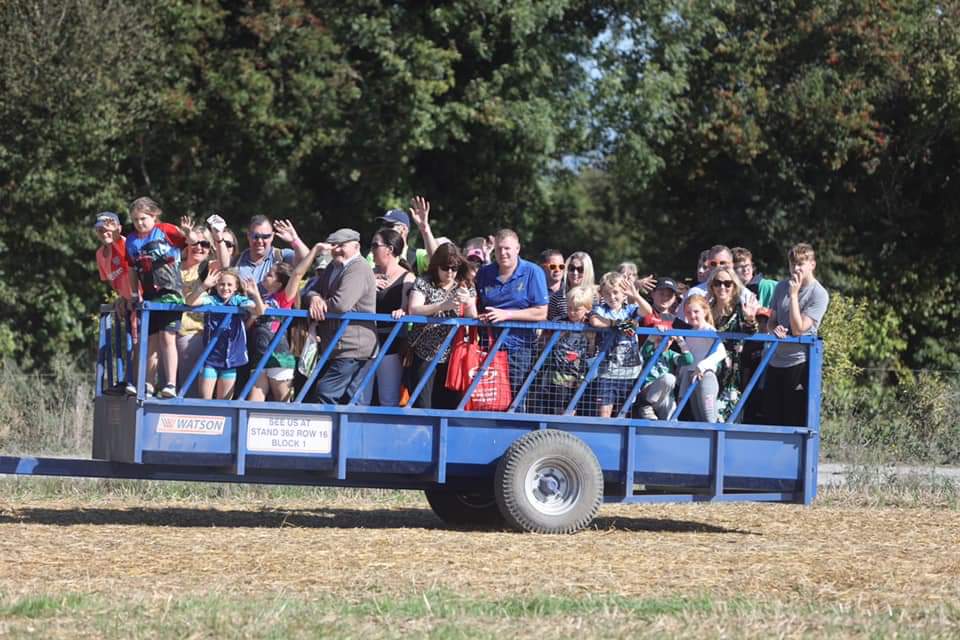 Following the exciting news released just last week that the National Ploughing Championships will return to Ballintrane, Fenagh, Co Carlow in 2020 – the Farm Compare team look back on an eventful experience of their inaugural attendance at the National Ploughing Championships 2019.
The road to Fenagh 2019…
Ahead of the prestigious event in the agricultural calendar, Farm Compare were delighted to be selected among the most innovative Irish agri-tech and agri-engineering companies to showcase their new business in the Enterprise Ireland Innovation Arena and participate in the Enterprise Ireland Innovation Awards.
To prepare for the awards the Farm Compare team attended a 'Bootcamp Innovation Challenge' held at Kildalton Agricultural College in July.
Prepped with our best pitching skills, new branded clothing (thanks to Ashley at ibrandeverything!) and our 'can't miss us' green stand, we packed up hit the road to County Carlow!
Day One - Sunday, 15th September
Arrival, stand set up and familiarisation with the expansive site were top priorities…but we managed to squeeze in some time to get a sneak peek at the other businesses in Enterprise Ireland Innovation Arena - and we were blown away with some of the ingenious products, technology and people!
Day two - Monday, 16th September 2019
The Enterprise Ireland Innovation awards got underway where all exhibitors presented a 1-minute pitch to a panel of judges followed by Q&A session with the judges on our stand.
In the evening we were delighted to be part of the International Guests & Media Tour which was a networking session in which we were able to speak with industry leaders and government representatives.
The Innovation Awards ceremony kicked off with an introduction to the evening and dignitaries by James Maloney, Enterprise Ireland, followed by an address from Julie Sinnamon CEO, Enterprise Ireland.
The Key note speaker of the evening was Agritech, Robert Walker, CEO of Keenan Alltech. The Awards were Presented by Julie Sinnamon and Anna May McHugh with the overall winner announced as Dairymaster Mission Control from Causeway, Co. Kerry. Dairymaster Mission Control has introduced artificial intelligence to rotary milking and were worthy, innovative winners! Read more about their product here.
Day three - Tuesday, 17th September 2019
Visitors arrived at our stand and we pleased to demo our farm equipment and machinery finder website, with a €200 cash prize up for grabs.
In the Innovation Arena, 'From Farm to Fork' Report was launched by Minister Pat Breen, Irish Minister of State for Trade, and Orla Battersby, Head of Food at Enterprise Ireland, panel guests and representatives from the Irish Farmers Journal.
The report highlights Ireland's prominence among other international countries competing in the agri-tech, agri-engineering and agri-food industries and detailed the growth across the sector as a whole.
James Maloney from Enterprise Ireland, highlighted in the report that "Emerging technologies such as sensors, artificial intelligence (AI), facial recognition, automation and data analytics are now being adopted in the latest innovations from agri-tech companies". According to Maloney, these new technologies will allow the farmer to save time and to make more informed data driven decisions.
Farm Compare were delighted to accept an invitation to Department of Agriculture, Environment & Rural Affairs (DAERA) reception. This was a great finish to the first day of the Ploughing where the pavilion was filled with familiar faces from the agri food sector.
Day four - Wednesday, 18th September 2019
The temperatures soared and so did the crowds at what would prove to be one of the largest attendance figures in the National Ploughing Championships history!
Innovation Arena Awards were presentation by Heather Humphreys, Minister for Business, Enterprise and Innovation and Sean Creaner, Enterprise Ireland.
Minister Humphreys speech was motivational where she spoke of focusing on innovators "as they are leading the pack" and words of encouragement that remained with us long after the event "if you have identified a need then enthusiasm and commitment are key ingredients then the sky is your limit"
A panel discussion on "The Carbon Challenge - what will change in Irish Agriculture" was an insightful and thought provoking segment to include speakers Dr. Frank O'Mara, Teagasc and Justin McCarthy, Irish Farmers Journal.
In the evening we enjoyed truly international experience where with Callaghan Innovation, New Zealand's national innovation agency, hosted an evening networking reception in which an Agritech delegation from New Zealand joined the event. We embraced the opportunity to hear about the challenges and opportunities for Irish Agribusiness companies in New Zealand.
Day five – Thursday 19th September
Before we packed our bags ready to head home we took the opportunity to explore some of our neighbours exhibiting also in Innovation Arena. Theses amazing exhibitors have been named in the Agri Insider's Tech Top 40 Agri Tech Companies in Ireland!
· True North Technologies Limited (Weighrite)
· Agrinet HerdApp & Cashminder
· Farmeye
· SAMCO, Silage Wheel Loader Extensions
· JFC Agri
A special mention to Equine MediRecord who were exhibiting their digital medical record system beside us in the Innovation Arena who ranked in the Sunday Business Post Top 100 Hot start ups.
View the full list of leading lights in the Farm Innovation sector in this downloadable guide from Enterpise Ireland.
Pictured is Oliver from Farm Compare with Alfred Cox, founder of The Innovation Arena at the National Ploughing Championships.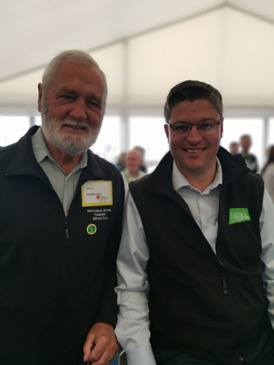 The Farm Compare team relished the opportunity to share the stage with global agri-tech companies and similar likeminded innovators and agricultural industry disruptors. We would like to thank the National Ploughing Association for a fantastic event and Enterprise Ireland for selecting us to exhibit in the prestigious Innovation Arena. We are already planning our 2020 visit!