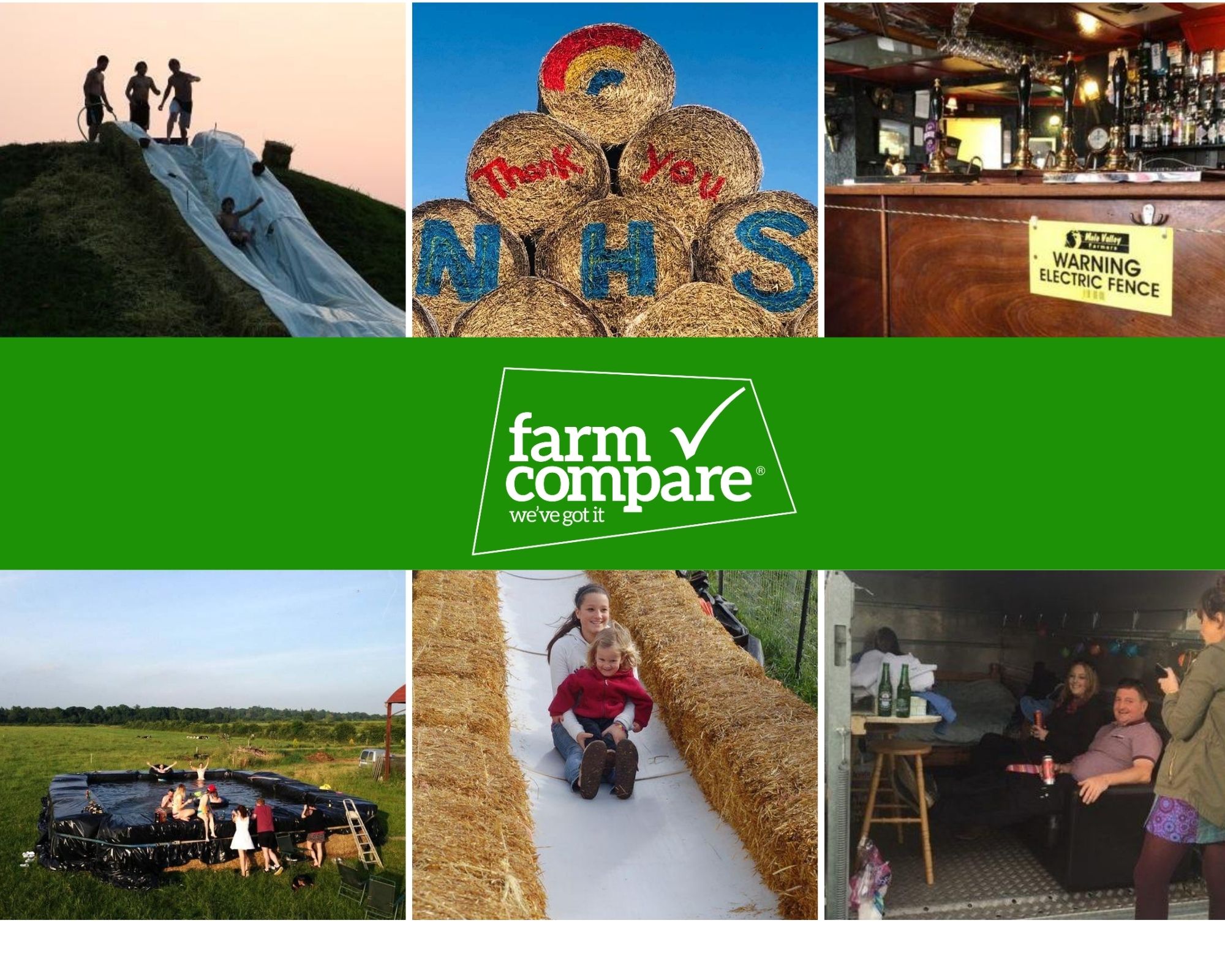 How to make an outdoor pool, camper van and enforce social distancing all with materials and equipment you'll find on your farm!
There is getting value for money with a piece of quality equipment or farm essential product and there is the added bonus of adapting it to help you out other ways too. In this just for fun blog we take a look at some of the interesting ways farmers are putting some of their equipment, machinery and farm essentials into action for other uses…some practical and some more so for laughs!
Safety of course is top priority and while we can't recommend you start adapting your farm machinery or equipment for other uses, it's interesting to see how some innovative farmers are thinking outside the box.
KEENAN diet feeder mixes up a treat
An innovative farmer in County Cork used his KEENAN diet feeder to distribute beet fodder into the grass for baling – a two in one mix for added nutrition and a good solution to disguise the fodder in grass for fussy cows! Watch the video to see this in action and don't forget to check out our extensive KEENAN diet feeder ranges.
Cheetah electric fences helps enforce social distancing
When pub goers in a Cornwall bar failed to follow COVID-19 social distancing guidelines, a fed-up owner decided to take matters into his own hands and set up his Electric Fence in a cordon around the bar! The fear factor proved to be effective in keeping customers at a safe drink ordering distance, with a slight shock if they overstepped the 1m rule!
Make a waterslide with bales while the sun shines
We all know that a good weather day means a busy farming day, but these clever kids took time out to construct a waterslide using square bales and wrap! With a little help from the slope of a hill they were able to recreate a day out at a waterpark at home! Making even BIGGER waterslides could be even easier with the help of the MIGHTY MDE Machinery Warrior 16ft Grape to shift bales.
Pool party with polythene cover
The waterproofing benefits of polythene silage cover can be particularly handy at holding the water in, while normally used to keep water out. In a recent feature from the Irish Farming Journal a farming family created an impressive outdoor pool using bales and polythene covers as the pool lining! A much cheaper alternative to construction with the added bonus of being able to knock it down and rebuild next summer! We reckon the Fleming Agri square bale handler would make light work of building and demolishing a summer season bale pool!
Camping farm trailer style
Who needs a tent when you can have a trailer? That's what one farmer came up with when attending a festival last summer. He converted his livestock trailer into a fully functioning camper van complete with sofa, bed and seating area, bringing some home comforts to camping out. Brilliant! This very farmer then went out to found his very own trailer company Bracken Enterprise! The Bracken Enterprise trailer range is known for its unique low-profile design for easy loading and unloading of livestock, who's to say the same principle can't apply for your armchairs and kitchen table too?
Message in a bale
No need to build signage in your field, simply stack your bales and paint on your message! That's what farmers across the UK and NI have been doing to display messages of support for NHS staff and key workers during the Coronavirus crisis. The Fleming Agri square bale handler will help you perfectly position your bale billboard in your field – top tip the square shapes make for easy painting with no curved edges to tackle!